There's no place like home…
Since 1999, Dancing Paws Pet Care has enjoyed a solid reputation for providing nurturing care for your furry friends at reasonable rates.
"It's just this simple, this guy is way beyond terrific. The service he provides is wonderful."

"Dancing Paws Pet Care is a wonderful pet sitting and dog walking service. Scott has many clients (2-legged and 4) and all are very happy with his company. He is trustworthy, honest and loves all of our furry friends!" 

Scott was so kind and patient with my very shy golden- lab mix. He sat with Cooper, let him get comfortable and then stayed an extra long time, persuading him to go back in the house, which sometimes is a comedy in itself. He treated Cooper like family."  Testimonials

If you're in Amawalk, ,Baldwin Place, Bedford Hills, Bedford Corners, Bedford Village,Briarcliff Manor Chappaqua,Cortlandt Manor, Cross River, Croton-on-Hudson, Goldens Bridge, Katonah, Mount Kisco, North Castle, Ossining, Purdys, Shenorock, Somers, Yorktown Heights and surrounding vicinities, call, text, or email us today to begin a lasting relationship with our enthusiastic and reliable "animal people".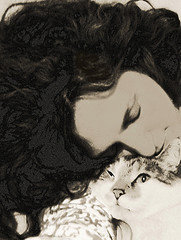 Two of my favorite felines, one has the ability to stand up-right!

DANCING PAWS SUPPORTS SEVERAL CHARITABLE PET ORGANIZATIONS , MOST NOTABLY THE HUMANE SOCIETY WITH MONTHLY DONATIONS. WHEN YOU INVITE US INTO YOUR LIVES TO CARE FOR YOUR PETS, YOU ARE ALSO HELPING A WORTHWHILE CAUSE. FIND OUT TODAY HOW YOU ALSO CAN MAKE A DIFFERENCE!

 
                 www.humanesociety.org
We just DON'T SHOW UP with a leash, we show up with L O V E !