Newsworthy & Events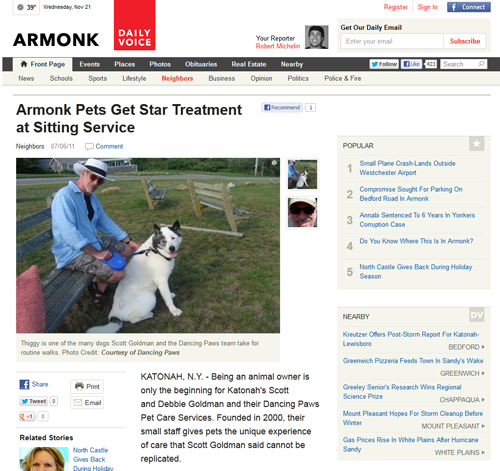 KATONAH, N.Y. – Being an animal owner is only the beginning for Katonah's Scott and Debbie Goldman and their Dancing Paws Pet Care Services. Founded in 2000, their small staff gives pets the unique experience of care that Scott Goldman said cannot be replicated.
Read the Article Armonk Daily News
JUNE 2013 KATONAH NY
Every so often, and it's rare, a dog comes into your life that is so special, so adorable, so unique that it is almost breath-taking. I WANT to tell you about Bella, a three-year old female Cavechon (a breed which is a hybrid of a Cavalier King Charles and a Bichon Frise).
Bella is a spirited, athletic, non-shedding buddy who enjoys an active lifestyle and a demonstrative family. The breed is known for their intelligence and affectionate nature.
Bella came into my life as a "border" and quickly found her place in my heart. I SPENT hours of quiet time cuddling her adorable 13 pound doggie body while she lavished me with 1,000 kisses.
Her legal owners have become good friends and they reside in our area close by in Goldens Bridge.
Due to health related issues they have come to the painstakingly unselfish decision to transition Bella to a supreme pet loving family, preferably in our area.
The Goldman's (us) have meditated long and hard as to the feasibility of adding a full-time dog to our ever so hectic lifestyle and we cannot in good conscience make that commitment. I am looking for that special family that can!
Bella would thrive in the following environment and quickly assimilate into your lifestyle:
Another small dog to pal around with (she does best in a one to one relationship as opposed to a dog park)
A calm and gentle demeanor (Bella is a lover, very affectionate and the ultimate pal)
An area to run safely and freely (she simply adores daily hikes and loves car rides)
Children that are loving, gentle and respectful of our four-legged friends
Cats that are dog friendly and will interpret her body language as a play invitation and not a threat
Simply put, this is a special dog and I am committed to helping the family find her the ultimate forever home.
Feel free to contact the family directly, that would be Frank at 914-232-8526 or rangerny@gmail.com.
I can't stress this enough, Bella is love, pure and simple and will brighten your life with her spirited nature, athleticism, antics and kisses each and every day!
August 2013
Bella is living the life of luxury in South Jersey with new mom Lorraine. She has adjusted immediately and is enjoying a lavish lifestyle of ongoing love, attention and play!
September 2013
October 2013
Greetings from Dancing Paws, we hope that you are enjoying this incredible fall weather and that you and yours are good.
I am reaching out not to talk about my business but to talk about a great event this Saturday.
Pets Alive (http://petsalivewest.org/ ) in Elmsford will be hosting Howl-O-Ween  starting at 12:00!
Did you know that in 2013 over 4.5 million dogs and cats will be euthanized in kill shelters nationwide!
That's over 11,000 pets murdered every day, 458 every hour and 8 every minute. Pets Alive is doing great work as a non-kill pet sanctuary committed to matching our homeless four-legged friends with loving local families and I am pleased to join their team of committed volunteers.
I hope to see you this Saturday, Oct 26 starting at 12 noon and continuing until 3:00.
We are conveniently located in Elmsford and do click onto http://petsalivewest.org/ for further contact and sanctuary information.
Bring your pets, bring the kids, bring your LOVE and share a fun-filled day with fellow animal people and lovers.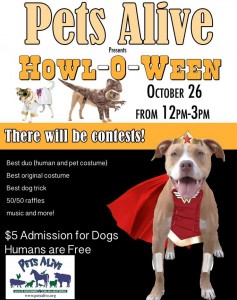 See you there.
November 2013
Hi to our Orange County Neighbors….
Here's a heads-up on our November extravaganza which I know is gonna be a blast! 
 Pets Alive Westchester is joining Pets Alive in Middletown for a weekend
adoption event, November 2nd and 3rd at Thomas Bull Memorial Park in
Middletown, NY. Details on our website http://petsalivewest.org/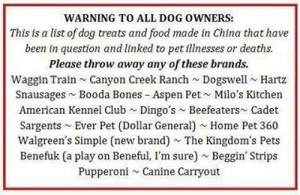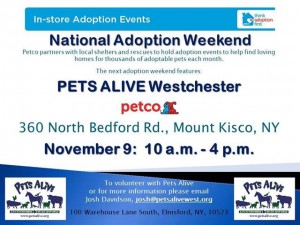 Pet Super Adoptions
Best Friends Pet Super Adoptions are coming this fall.
Hundreds of dogs, cats, puppies, kittens and even rabbits will be available for adoption from local shelters and rescue groups in select locations.
What is a Pet Super Adoption?
It's a cooperative effort in which multiple animal groups get together in a free, fun, festival-like atmosphere to adopt out hundreds of animals during a limited period of time. Additionally, it's a fun, positive way for the general public to see adoptable animals in a unique setting.
What to expect
Each participating rescue group and shelter at the event will have their own adoption application, interview process, and adoption fees. Adoption fees help groups cover costs like spay/neuter and updated vaccinations, as well as any critical medical costs. If you are planning on adopting an animal, we recommend coming prepared with a valid form of identification, payment method, and ideally a letter of permission/reference from your landlord if you rent your home. Please note that all of the shelters and many of the participating groups offer same-day adoptions, however, some groups require home checks as part of their application process.
Thanks to PetSmart Charities for supporting all our Pet Super Adoption events.
2013 Pet Super Adoption Locations:
New York (White Plains), New York
Los Angeles, California
Salt Lake City, Utah
New York
Westchester County Center, 198 Central Ave, White Plains, New York 10606
November 16: 10 a.m. – 7 p.m.
November 17: 10 a.m. – 5 p.m.
Roughly 700 adoptable animals from 35 shelters and rescues are expected at this free event. All adoption fees, which start at $50, include spay/neuter, vaccinations, and an adoption starter kit.
To sign up to volunteer, email tammyh@bestfriends.org.
Dear Scott,
I have incredible news to share with you! The New York Legislature recently passed a bill that allows local governments to regulate puppy mills and pet dealers. Yesterday, Governor Cuomo signed the bill into law. Sponsored by Assembly member Linda B. Rosenthal, D-New York, and Sen. Mark Grisanti, R-Buffalo, A.740a/S.3753a allows local governments and citizens to have the ability to enact regulations to crack down on the puppy mills in their communities. Read more about this victory»
Puppy mills are large-scale, inhumane, commercial dog breeding operations that mass-produce puppies for sale through flea markets, pet stores, over the Internet, and directly to the public. New York's lax laws are attractive to the worst puppy millers, and dogs suffer in cruel conditions every day.
This victory was possible thanks to the actions of compassionate advocates like you. When we stand together, we can make a tremendous difference for animals.
Sincerely,
Wayne Pacelle, President & CEO The Humane Society of the United States
| | | | | |
| --- | --- | --- | --- | --- |
| February 21, 2014 | | | | |
Friend,
There comes a time in a young dog's life when he starts to get just a little too friendly with that mysterious lady pup next door. Before they play, neuter and spay.
World Spay Day is on February 25 and we're using this day to encourage people to give their cats and dogs a treatment that is guaranteed to save countless lives — spay and neuter. Unfortunately, not everyone can afford this life-saving surgery. Every year, 4 million cats and dogs are put down in the U.S. alone and millions more suffer on the street as strays.
Friend, this is where you come in. You can save lives by fix'n the problem. Here's how.
Start a featured project fundraising campaign on myHumane to sponsor spay/neuter surgeries and outreach for World Spay Day. You can raise money by hosting a special celebration, bake sale, lemonade stand, or get creative with another idea. If you get just three of your friends to donate $25 each, you'll raise enough money to provide surgery for one male cat; $26 each will spay a female dog! But don't stop at just one, how many dogs and cats will you and your friends help to get spayed and neutered with your campaign?
Start your World Spay Day fundraising campaign today»
Plus, when you raise $50 or more through your humane World Spay Day fundraising campaign, you'll get to sport an exclusive World Spay Day t-shirt to celebrate your success!
You and your friends can give dogs and cats everywhere a fighting chance to enjoy a loving home.

April is Pet First Aid Awareness Month
Aside from taking a pet first aid & CPR course, which every pet owner and pet professional should do, it's also important to have a pet first aid kit. Having a well-stocked pet first aid kit can be a key factor in your pet's well-being during an emergency. It will serve to help you you prevent further injury, lessen the chance of infection, and even save your pet's life.
You can either purchase a commercial pet first aid kit or put one together yourself. In my pet first aid classes I recommend putting one's own kit together. This way you'll know what's in it and items can be tailored to your pet. I've heard from many pet owners who have bought a pet first aid kit and didn't look through it because they just assumed it had what they would need in an emergency. That may or may not be true, but when you're in the middle of an emergency you don't want to find out you assumed wrong.
At the very least a pet first aid kit should contain the following: sterile gauze pads, gauze rolls, first aid tape, scissors, 3% hydrogen peroxide, antibacterial ointment, antiseptic wipes, eye dropper, muzzle, leash, digital thermometer, antihistamine (Benadryl or generic), and a blanket or stretcher. It should also include the address and phone number for your veterinarian as well as the nearest animal emergency center. And, be sure to have the phone number for the AnimalPoisonControlCenter: 888-426-4435
If you would rather buy a pet first aid kit, be sure to familiarize yourself with the contents. Take all of the items out and make sure you know what they are, how to use them, and if they're appropriate for your pet (for example, if a muzzle's included make sure it's the right size and that you know how to put it on your dog.)
The hope is that you will never need to use your first aid kit, but if you do, having it handy will save time and may save your pet's life.